Il Libro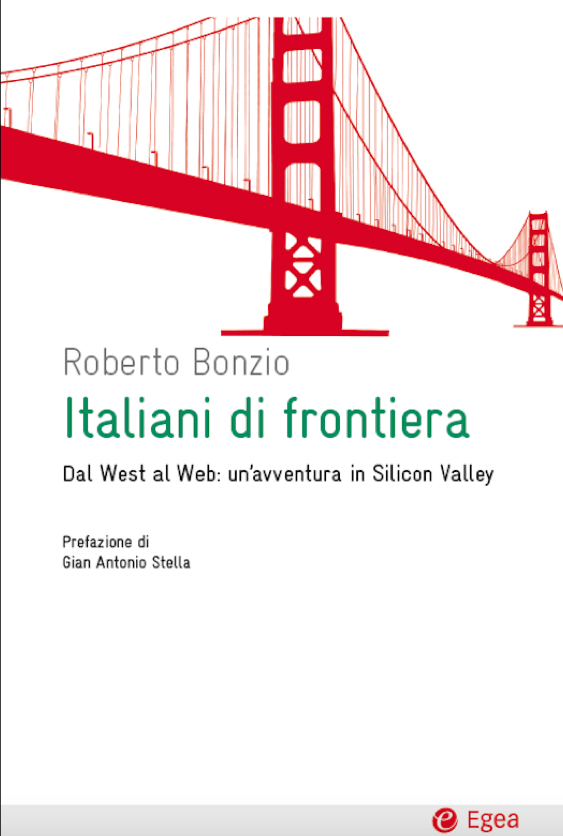 Dall'Italia  a Palo Alto per sei mesi, nel 2008 in aspettativa dalla redazione e con famiglia, facendo tutto da solo, senza sapere che cosa ne uscirà. La scoperta –  fra storie, incontri e interviste – di un filo «out of the box» che collega lo spirito d'impresa di esploratori del West al talento di leggendari innovatori, ricercatori e giovani startupper di  successo, nella culla mondiale dell'innovazione.
Poi il ritorno in Italia, con un giornalismo diverso e la rinuncia al posto fisso: racconti sul web e i social media, storytelling multimediali in giro per le città e all'estero in decine di importanti eventi davanti a migliaia di persone, Silicon Valley come chiave per capire le straordinarie potenzialità nascoste ma anche le enormi barriere da abbattere nel nostro Paese. E ora un libro (Italiani di frontiera - Dal West al Web: un'avventura in Silicon Valley), pubblicato da EGEA Bocconi con prefazione di Gian Antonio Stella. Che viene finalmente presentato dove il progetto è nato: nella Bay Area.
L'Autore
Dopo una carriera in redazione con Il Gazzettino, Il Giorno e agenzia Reuters, Roberto Bonzio è oggi giornalista imprenditore, autore di Italiani di Frontiera. Premiato nel 2013 come «Cafoscarino dell'anno» all'Università di Venezia e nominato nel 2014 tra i Digital Champions italiani – gli ambasciatori dell'innovazione per l'attuazione dell'Agenda digitale per l'Europa – crede che le storie delle persone siano cruciali per innescare cambiamenti. E che raccontarle sia anche molto divertente.
Programma
Durante l'evento sara' offerto ai partecipanti un semplice rinfresco in collaborazione con il ristorante C'era Una Volta di Rudy Duran ad Alameda.
6:30 - 7:00  Networking
7:00 - 7:45  Roberto Bonzio presenta il nuovo volume
7:45 - 8:00  Q & A
8:00 - 8:30  Networking e chiusura dell'evento
Organizzazione
BAIA: Busines Association Italy America
Partners
Supporters e Sponsors
Altre Date
Roberto Bonzio sarà inoltre presente a Berkeley la sera del 7 novembre 2015 presso il Valley Life Sciences Building, room 2060 dalle 6:30pm alle 8:30pm per una prima presentazione del libro organizzata da The Italian Society at Berkeley. Anche per questo evento l'ingresso è gratuito.